<!–– START BLOG POST ––>
Audubon Tree Service: NJ's Premier Tree Company | CC Tree Experts <!———————————–– EDIT ———————————––>
<!———————————–– EDIT ———————————––>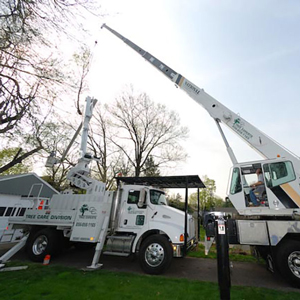 Removing, trimming or taking care of trees are complex tasks requiring extensive experience, training, and qualifications. An inexperienced crew may harm your greener assets and cause damage to your property. At C.C. Experts, our team is led by a New Jersey Licensed Tree Expert (NJLTE), which means we are one of the few tree services that can legally perform tree management, risk assessment, establishment, treatment, and more. If you're searching for a reliable Audubon tree service, turn to C.C. Tree Experts to ensure your trees are in safe, experienced hands.
We are also one of the few – if not the only – tree services in Audubon that owns our own crane. As a result, we can easily prune, trim, or even remove your trees without endangering you, your home, or your landscape. Contact us today at 856-858-1165 to find out more.
Let's explore reasons why Audubon residents choose C.C. Tree Experts to handle their tree care needs:
1. Qualified
In the world of tree care, having the right qualifications can make all the difference. Treating, pruning, or removing certain trees requires in-depth knowledge of the type of tree and the advanced techniques required to achieve the desired result. Our team has two certified tree experts, a qualification awarded to individuals who have passed an extensive evaluation of their proficiency in diagnosing, treating and preventing tree injuries.
2. Quick Response
Falling trees and branches cost homeowners and businesses millions of dollars in damages every year. Often, a couple of hours can mean the difference between dodging disaster or digging deep to cover the cost of repairs. At C.C. Tree Experts, we offer emergency tree removal to ensure you, your family, employees, and property are safe from harm.
3. Awards
Awards are proof that a business is willing to go above and beyond expectations to provide an exceptional service and comfortable customer experience. C.C. Tree Experts has won the Angie's List Super Service Award every year since the program started. Angie's List is one of the country's leading providers of consumer reviews on local businesses, and the Super Service Award is reserved for just 5% of all businesses rated by the site.
Searching for a Reliable Audubon Tree Service? Call Us Today
Whether you need a skilled team to trim your trees, diagnose and treat diseases, or remove a problem hardwood, you can trust the pros at C.C. Tree Experts to get the job done right. Call us today at 856-858-1165 to speak to a member of our team.
<!–– END BLOG POST ––>