<!–– START BLOG POST ––>
What Happens if a Tree is Never Trimmed? <!———————————–– EDIT ———————————––>
<!———————————–– EDIT ———————————––>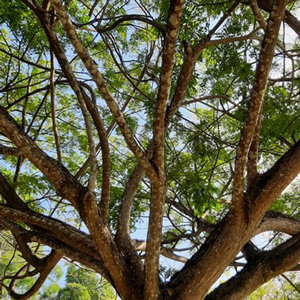 We often stress the importance of regular tree trimming Haddonfield homeowners should keep on top of. In today's post, we'll break down the dangers of never trimming or pruning the trees in your yard and discuss the tell-tale signs of a hardwood in need of a professional trim.
The Dangers of Never Trimming a Tree
We're often told not to interfere with nature, but while it seems harmless to let your trees do their own thing, the results could be devastating. Neglecting important tree care tasks in residential areas has multiple risks, including:
Property Damage—an untrimmed tree is more likely to drop heavy branches on nearby structures or property like cars, fences and outdoor furniture.
Injury—dead or heavy branches that aren't removed could fall and injure those below.
Tree Damage—never pruning a tree means it can grow to the point where branches become too heavy for the tree to support during high winds or storms. The breakage that can result from such an event could damage a tree beyond repair or, in the worst case scenario, topple the entire tree.
Spreading Diseases—one major benefit of regular pruning by a professional tree service is that diseases and infestations marring branches are caught early enough to prevent them from spreading to the rest of the tree or affecting nearby trees. An untrimmed tree risks spreading disease to neighboring trees, which puts your whole yard and any trees surrounding it at risk.
Invasive Growth—unchecked growth can wreak havoc on nearby structures like powerlines, fences and rooftops. Regular trimming prevents invasive growth, which can save homeowners tens of thousands of dollars and a lot of headache over time.
Signs You Need Professional Haddonfield Tree Trimming
The best way to prevent injury, property damage or tree damage is to have your trees pruned and inspected by a professional tree care provider in your area. Aside from that, it's always wise to stay vigilant and keep an eye out for the following signs:
Damaged or broken branches, tree limbs or roots after a severe storm or flood.
Dead branches that don't seem to be growing new leaves in season.
Branches that look sick, are infested with insects or a tree exhibiting fungal growth.
While well-intended homeowners might want to take care of tree trimming themselves, improper trimming can cause damage, invite infection and disease or create a safety hazard. Tree trimming and pruning in Haddonfield, NJ is a job best left to qualified professionals.
The Best Tree Trimming in Haddonfield, NJ
C.C. Tree Experts owner Chris Cochran is a New Jersey Licensed Tree Expert and an ISA certified arborist, and our company owns its own crane. The team at C.C. Tree Experts has the knowledge, experience and equipment for all your tree service needs. Call 856-858-1165 to speak to a professional today!
<!–– END BLOG POST ––>