<!–– START BLOG POST ––>
Common Trees of South Jersey and How to Care for Them <!———————————–– EDIT ———————————––>
<!———————————–– EDIT ———————————––>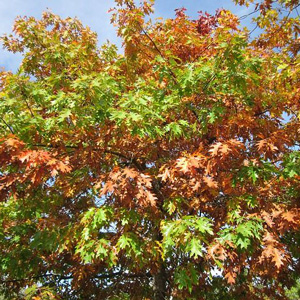 Looking for a tree service Riverton NJ home and business owners can depend on? In this post, the pros at C.C. Tree Experts introduce you to some of the most common trees of South Jersey and provide tips on how to care for them.
Northern Red Oak
The official state tree of New Jersey, the Northern Red Oak is known for its vibrant fall colors and large canopy spread. The Red Oak is a fast-growing, deciduous tree that reaches 60-75 feet at maturity. Red Oaks prefer full sun and provide shelter to game and migrant birds, as well as mammals. This tree does best in well-drained, sandy, loam soil. Red Oaks should be professionally pruned in the dormant season (late winter and early spring). This avoids attracting beetles that may carry oak wilt (a disease affecting oak trees).
Tulip Tree
Known for its tulip shaped flowers, this tree makes a beautiful addition to any yard! Tulip Trees are excellent shade trees, with a potential circumference of 40 feet and the additional benefit of attracting pollinators like hummingbirds and bees. With an average growth rate of 25 inches a year, pruning is paramount. Remove dead and excessive growth in the dormant season and be sure to do a thinning every few years. Tulip Trees prefer slightly acidic, well-drained, deep soil and full to partial sun.
Flowering Dogwood
Flowering Dogwood trees bloom in early spring and produce gorgeous white, pink or red flowers. Leaves turn yellow, red and maroon in the fall and the tree carries bright red berries which can attract songbirds and other wildlife throughout the year. Reaching 20-25 feet at maturity, this modestly sized tree species prefers partial shade and evenly moist, well-drained, acidic soil. Professional pruning in a Dogwood's dormant season can improve its structure and truly make it an accent tree that adds year-round beauty to your yard.
Pitch Pine
The Pitch Pine is the most common pine tree in the Pine Barrens of southern New Jersey. This is an evergreen species capable of surviving forest fires. On average, Pitch Pines can grow up to a whopping 60 feet and produce yellow-green needles that grow in bundles of three. This species prefers full sun and light sandy soil that is well-drained. This tree is best suited for a semi-wild landscape, as it may be difficult to grow under cultivation and does not compete well with other plants. Pruning and/or disbudding can add to the natural symmetry of this tree and encourage denser growth.
If you have questions about caring for the trees on your property, call 856-858-1165 to speak to a professional today! C.C. Tree Experts owner Chris Cochran is a New Jersey Licensed Tree Expert, and our company owns its own crane. C.C. Tree Experts has the knowledge, experience and equipment for all your tree service needs.
<!–– END BLOG POST ––>