<!–– START BLOG POST ––>
Tree Companies in South Jersey | C.C. Tree Experts <!———————————–– EDIT ———————————––>
<!———————————–– EDIT ———————————––>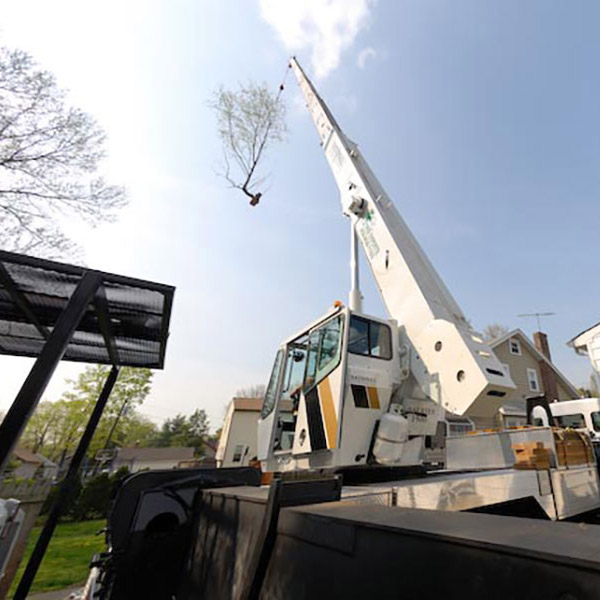 Even in an open field, tree removal is no easy feat. But when a problem hardwood is ready to collapse with homes and cars within a few feet of falling distance, this difficult task turns into a disaster waiting to happen. Fortunately, the pros at C.C. Tree Experts have decades of experience removing dead or dying trees from NJ's tightest corners. We own a crane and are one of the only – if not the only – tree companies in South Jersey that does. This vital piece of machinery enables us to remove trees safely without damaging your surrounding property.
Our owner Chris Cochran is a New Jersey Licensed Tree Expert (NJLTE) and a certified arborist, a distinction you'll struggle to find anywhere else in New Jersey. With his invaluable knowledge, we are armed to handle all your tree care needs. To schedule a site visit, contact us today at 856-858-1165.
Why Is a Crane Important for Tree Removal in South Jersey?
A crane is an expensive piece of equipment that few so-called "professional" tree services will invest in. But without it, many large trees are off limits when it's time for removal. With a crane, the tree can be taken away section by section without the risk of it falling and crashing into nearby property. Using this machinery is also quicker, which means we'll be on your property for less time than a service that doesn't use a crane.
Hiring an unqualified tree service that has neither a crane nor the correct credentials will put you at risk of potential catastrophe. With C.C. Tree Experts, you can enjoy peace of mind knowing that the job will be done right the first time.
We also offer advanced trimming and pruning services, our team can cut back and shape hard-to-reach branches to achieve the look you desire.
Call Today to Speak with One of the Best Tree Companies in South Jersey!
With our tools and experience, your problem tree could be just hours away from removal. Reach out to learn how we can help you and your property. To find out more about our fully insured and licensed tree service, call 856-858-1165.
<!–– END BLOG POST ––>