<!–– START BLOG POST ––>
Tree Removal Cherry Hill NJ: Service from NJ Licensed Tree Experts <!———————————–– EDIT ———————————––>
<!———————————–– EDIT ———————————––>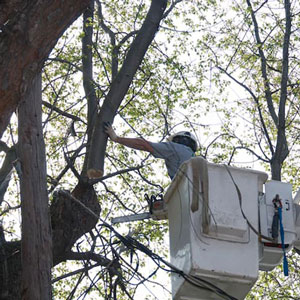 A dead or decaying tree is a threat to your home and your family's safety. Rather than waiting for the next big storm to cause a catastrophe, call the pros at C.C. Tree Experts. We have more than 40 years of experience in tree removal and tree maintenance, and we are one of the few companies—if not the ONLY company—serving Cherry Hill NJ that owns a crane, so we can remove your tree without damaging your landscape. When looking for a trusted crew for tree removal, Cherry Hill NJ residents turn to C.C. Tree Experts.
Company owner Chris Cochran is a New Jersey Licensed Tree Expert, which means we can legally provide a wide range of tree care services that other contractors are prohibited from offering. Call us today at 856-858-1165 to learn more.
Why Choose C.C. Tree Experts for Tree Removal in Cherry Hill NJ?
There are many contractors out there who claim to offer tree removal, but they lack the experience and equipment to do the job correctly. At best, an unskilled contractor will take several days or even weeks to complete the project. At worst, your home and landscape will be severely damaged because the contractor won't use the appropriate tools.
At C.C. Tree Experts, if we feel there is a risk of damaging your home or landscape during a tree removal, we using a crane to protect your property from harm. This is especially important if you have a dead or decaying tree near your home.
Chris Cochran is a Certified Arborist and Licensed Tree Expert, a rare distinction in New Jersey, which means he has passed an extensive test and can legally offer tree care services, in addition to tree removal, that few tree services in South Jersey can perform including:
Tree assessment;
Tree risk management;
Tree management during site planning and development;
Tree pruning
Contact C.C. Tree Experts Today for Tree Removal in Cherry Hill NJ!
When searching for a reliable tree service, Cherry Hill NJ residents trust in the knowledgeable and experienced crew at C.C. Tree Experts. We are fully licensed and insured. Call 856-858-1165 to learn more.
<!–– END BLOG POST ––>