<!–– START BLOG POST ––>
Tree Removal Gloucester County NJ: Tree Service Professionals <!———————————–– EDIT ———————————––>
<!———————————–– EDIT ———————————––>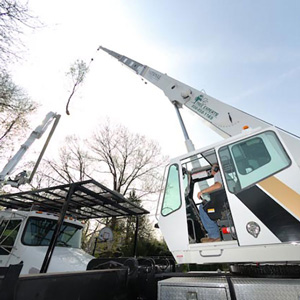 For nearly 40 years, the pros at C.C. Tree Experts have been the preferred provider of tree removal and tree maintenance services in New Jersey. We are Licensed Tree Experts and one of the few tree removal companies—if not the ONLY company—serving Gloucester County that owns a crane, so we can remove your tree without causing damage to your surrounding landscape. When searching for a reliable company for tree removal, Gloucester County NJ residents turn to C.C. Tree Experts for quality service and honest workmanship.
Don't trust an amateur with your tree removal needs. Our experienced team is fully licensed and insured, and we will do the job right the first time. Call us at 856-858-1165 or reach out through our website to learn more.
About Our Tree Care Services
Far too many homeowners wait until it's too late to have their tree removed. If a tree on your property is dead or is showing signs of decay, such as cavities in the trunk or peeling bark, one strong gust of wind could be all it takes for a large branch or the entire tree to fall, causing untold damage to your property.
If you're not sure whether a tree poses a risk, we can inspect it and provide an honest assessment to determine if your tree can be saved. Our tree care services include tree pruning and trimming, tree takedown and removal, and stump removal.
Our Licensed Tree Experts have a comprehensive knowledge of plant care. We provide insect treatment to prevent leafy minors, aphids, and other pests from weakening your trees. If you're redesigning your landscape, our team can help you choose the right trees to achieve your desired aesthetic and place them in the correct locations to ensure the health of your landscape.
Call Us Today for Tree Removal in Gloucester County NJ!
When searching for a reliable tree service, Gloucester County NJ residents turn to the fully licensed, insured, and experienced professionals at C.C. Tree Experts. Contact us today to discuss your tree care needs.
<!–– END BLOG POST ––>