<!–– START BLOG POST ––>
Tree Service Haddonfield NJ | Trimming, Pruning, Cutting <!———————————–– EDIT ———————————––>
<!———————————–– EDIT ———————————––>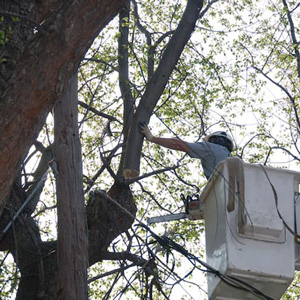 Tree care is an essential part of keeping your landscape looking its best, but trimming, pruning, and cutting are time consuming and dangerous without the right equipment and training. At C.C. Tree Experts, our owner Chris Cochran is a Certified Arborist, which means he has the specialized skillset and knowledge to offer specialized tree services that other companies cannot provide. When searching for an expert crew for tree removal, Haddonfield NJ residents turn to the pros at C.C. Tree Experts. As a testament to our high service quality, we have won the Angie's List Super Service Award every year since the program began. This award is given to only 5 percent of businesses rated on the website. To find out more about our award-winning tree experts, call 856-858-1165 today.
Trimming vs. Pruning vs. Cutting
It's no secret that a tree can turn into an eyesore if left to its own devices. Keeping a tree beautiful and healthy is a complex process that requires years of experience and education in the field of tree care. Fortunately for homeowners in Haddonfield NJ, C.C. Tree Experts is a qualified tree service specializing in pruning, trimming, and cutting—all of which are essential to ensure a tree grows in a way that is both safe and aesthetically pleasing.
Whether your tree could benefit from trimming or pruning will depend on its health and your goals. If you're not sure what your tree needs, our crew will evaluate it and determine the best solution. If we discover any dead, dying, or infected branches, we may have to remove the affected limbs to ensure the rest of the tree can flourish. If you would like to control your tree's growth—for example, you may want to alter its shape—our team will help you achieve the desired result.
Sometimes an entire tree is dead or dying. In this case, we will most likely recommend removing the tree from your property before it comes crashing down, injuring someone and damaging your home or business. We own a crane and are one of the only tree services—if not the only tree service—in the area that does. With this vital machinery, we can remove large trees from the inaccessible parts of your property without damaging your landscape or surrounding structures.
Call Now for Safe & Reliable Tree Removal Haddonfield NJ Homeowners Trust!
Whether you want to improve the appearance of your trees or have a problem tree removed, you can rely on our knowledgeable crew to get the job done right the first time. When searching for a tree service, Haddonfield NJ residents trust the skilled and experienced team at C.C. Tree Experts. Call 856-858-1165 today to learn more.
<!–– END BLOG POST ––>