<!–– START BLOG POST ––>
Tree Removal Cherry Hill NJ: Hazard Reduction | CC Tree Experts <!———————————–– EDIT ———————————––>
<!———————————–– EDIT ———————————––>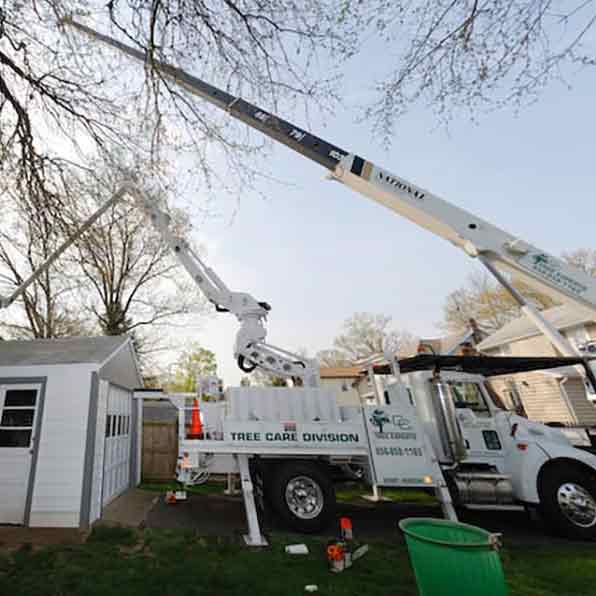 Dying or dead trees aren't just an eyesore; decaying timber poses a serious threat to you, your family, and your property. There are countless cases of rotting hardwoods falling over and damaging homes and injuring those inside. At C.C. Tree Experts, our pros can assess the health of the plants on your landscape and remove problem trees safely and efficiently to prevent disaster down the line. When searching for a company specializing in effective tree removal, Cherry Hill NJ residents trust the team at C.C. Tree Experts to get the job done right the first time.
We've been in business for nearly 40 years. Over that time, our crew has removed countless trees in a variety of situations, including those that were directly adjacent to homes and businesses. We are also one of only a few tree companies – if not the only company – in South Jersey that owns a crane, which enables us to remove trees in confined areas without causing damage to your home or outdoor space. To get started, call us today at 856-858-1165.
The Importance of Tree Hazard Reduction
The trees on your landscape are a vital part of your outdoor aesthetic. But these tall hardwoods require year-round tree care to ensure they don't succumb to disease or turn into a fire risk. Hazard reduction involves assessing your property and identifying the potential warning signs of an impending disaster.
Our services include:
Trimming and pruning to reduce fire danger;
Tree removal for dead or dying trees that can no longer be salvaged.
Our owner Chris Cochran is a New Jersey Licensed Tree Expert (NJLTE), which means he is one of only a few experts in the state who can legally perform some of the services we provide. With our qualifications, you can rest assured that you won't be blindsided by a problem tree.
Call Us for Fast Tree Removal Cherry Hill NJ Homeowners Trust
Prepare for the worst with help from the best in the business. At C.C. Tree Experts, we have the knowledge and experience to identify potential problems before they become unavoidable catastrophes To find out more, call 856-858-1165 and ask to speak to one of our certified tree experts.
<!–– END BLOG POST ––>