<!–– START BLOG POST ––>
Tree Removal Woodbury NJ: How to Safely Remove a Tree | CC Tree <!———————————–– EDIT ———————————––>
<!———————————–– EDIT ———————————––>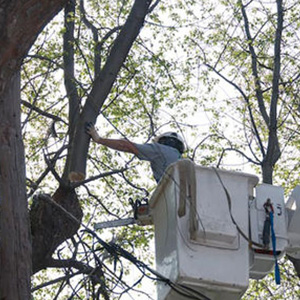 A dead or dying tree on your property is a hazard that needs to be dealt with swiftly. However, before you turn to a cheap crew of so-called "experts," remember that tree removal is a complex and precise science requiring in-depth knowledge and advanced equipment. At C.C. Tree Experts, we are one of the few tree services – if not the only tree service – in the area that owns a crane, which means we can remove your tree safely with no danger of causing damage to your home or landscape. When in need of safe, effective tree removal, Woodbury NJ residents trust our crew to get the job done right.
When you choose to hire an unqualified tree service that doesn't have our credentials, you're gambling with one of your most valuable assets: your property. We have more than four decades of experience removing, treating, and trimming trees, and have built a reputation as a tree service New Jersey home- and business owners can depend on. Call 856-858-1165 today to find out more about what we do.
Is It Safe to Remove My Tree Myself?
Most homeowners underestimate the dangers of DIY tree removal which leads to numerous deaths and injuries every year. From assessing the felling zone and weather conditions to identifying any obstructions such as power lines, you need to account for a wide variety of factors to remove a tree safely.
Additionally, most trees in residential areas are situated in confined places where felling is not possible. As a result, the tree needs to be removed piece by piece to prevent any damage to your home, landscape, or neighboring properties. In most cases, you will require a crane.
At C.C. Tree Experts, not only do we own our own crane, our team also has a New Jersey Licensed Tree Expert, arming us with the in-depth knowledge and training necessary to minimize risks and navigate around potential hazards. We also have years of experience in tree care and removal.
Tree Removal Experts Woodbury NJ Homeowners Trust
Don't risk disaster; turn to a tree service with a reputation for fast, effective and safe tree removal. At C.C. Tree Experts, our reputation for providing a high-quality service has earned us the Angie's List Super Service Award every year the program has been active. Angie's List is one of the country's leading providers of consumer reviews on local businesses, and the Super Service Award is an honor bestowed on only the top 5% of businesses rated by the site. To find out more, call 856-858-1165 to speak to one of our pros.
<!–– END BLOG POST ––>