<!–– START BLOG POST ––>
Tree Service Burlington County NJ: Expert Care for Healthy Trees <!———————————–– EDIT ———————————––>
<!———————————–– EDIT ———————————––>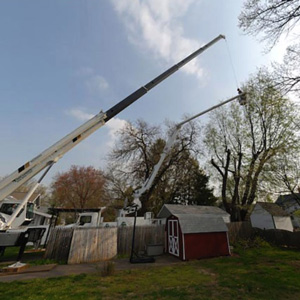 A dying or decaying tree is a backyard risk that many people don't think about until it all comes crashing down. Act now before it's too late and call the pros at C.C. Tree Experts. Owner Chris Cochran is a New Jersey Licensed Tree Expert (formerly known as a Certified Tree Expert), which means our company is one of the few in the state that can legally perform consulting, diagnosis, and treatment of tree problems and diseases. When searching for a reliable tree service, Burlington County NJ homeowners trust C.C. Tree Experts.
Unlike other tree removal companies in the Burlington County NJ area, we own a crane, which means we can safely remove large trees, without causing damage to your property or surrounding plants. Call us today at 856-858-1165 to find out more.
Read on to learn how regular maintenance can benefit your trees:
Keep Your Trees Healthy with Regular Maintenance
Your trees are subjected to high-speed winds and unforgiving storms. Often, branches will start to wither and die, leaving behind deadweight that not only blocks sunlight to new, vital branches below but also could snap off at any moment, hurting someone or damaging your property.
Regular tree care will ensure dead or decaying branches are pruned, leaving the living parts of your tree to flourish. The team at C.C. Tree Experts can also diagnose and treat tree problems and diseases.
In some cases, a tree may no longer be salvageable and needs to be removed. If you're not sure whether a tree poses a risk, our crew can examine your property, provide an honest assessment, and oversee the tree removal.
The Tree Service Burlington NJ Residents Trust
Our experienced team will help you maintain a landscape of healthy trees that will provide shade for decades to come. If you're not sure whether a tree can be saved or needs to be removed, our crew will arrive promptly, evaluate the tree in question, and help you determine the best solution. Call 856-858-1165 to bring in the experts.
<!–– END BLOG POST ––>