<!–– START BLOG POST ––>
When is Tree Removal Necessary? <!———————————–– EDIT ———————————––>
<!———————————–– EDIT ———————————––>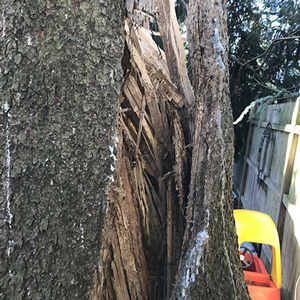 In this post, C.C. Tree Experts––the tree service Cherry Hill, NJ trusts––explains when it might be beneficial to remove a tree from your property.
Trees can live for generations, lending their beauty to our yards and providing a home to small critters of all kinds. This can make tree removal a difficult choice, and depending on the circumstances, removal is typically considered a last resort. Let's take a look at a few of the reasons you might want to seek help with tree removal:
A Tree is Sick
While many diseases can be treated, especially when caught early on, they can wreak havoc on the structural integrity of a tree. This is dangerous, because a damaged or sick tree is more prone to breaking and falling branches, or the whole tree falling over––especially during windy storms. It's also important to consider the likelihood of one tree spreading disease to those around it.
If you suspect a tree on your property is sick, a professional can:
Help diagnose the problem.
Assess the extent of the damage.
Help create a treatment plan if the tree is salvageable.
Aid in removing the tree in a safe, responsible way.
Invasive Trees
Not all trees are welcome in a garden––in fact, some are invasive and become detrimental to the surrounding landscape. Invasive trees are usually non-native trees that cause some kind of harm to its immediate environment. Common problems include:
Preventing sunlight from reaching ground growth.
Competing with native plants for bee pollination.
Preventing surrounding plants from getting resources.
If you notice the plants in your yard struggling without explanation, it's possible an invasive tree is at work. Common invasive trees in the United States include the black locust tree, the Siberian elm tree and the Tree of Heaven, which can grow through concrete and damage home foundations.
Damaged Trees
If a tree has been badly damaged in a storm or an accident, have a professional assess the structural integrity of the tree.
Trees in Danger of Invading Existing Structures
Tree roots and branches can invade and damage structures like home foundations and powerlines, often making removal the safest option. You'll want to work with a reputable company for delicate removals like these.
C.C. Tree Experts Can Help!
C.C. Tree Experts is one of the only, if not the only, tree services in the area that owns its own crane! Our company is fully licensed and insured for the arduous task of tree removal.
If you have questions about tree removal, or caring for the trees on your property, call 856-858-1165 to speak to a professional today! C.C. Tree Experts owner Chris Cochran is a New Jersey Licensed Tree Expert. Our team has the knowledge, experience and equipment for all your tree service needs.
<!–– END BLOG POST ––>