<!–– START BLOG POST ––>
How Can You Tell When a Tree on Your Property Might be Sick? <!———————————–– EDIT ———————————––>
<!———————————–– EDIT ———————————––>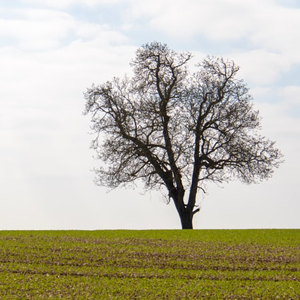 A sick tree is at risk of dying or spreading disease to neighboring trees. In this post, the tree service Haddon Heights, NJ homeowners can trust, C.C. Tree Experts, breaks down how to tell when a tree on your property might be sick.
The loss of a tree can be traumatic. Falling branches or a toppling tree can cause property damage or physical injury. At the same time, trees can live for generations and hold sentimental value for homeowners and community members. Spotting a sick tree early on can afford time for treatment or removal to prevent further damage. Let's look at the warning signs:
The Roots
Despite the majority of a tree's roots existing out of sight, it's a good place to start when inspecting a tree for potential problems:
New branches sprouting from the base of the trunk indicate the tree is suffering from stress.
Recent construction near a tree can upset its roots, or cause soil to compact, restricting necessary pore space that helps roots develop. Poor rooting increases the risk of a tree being blown over during a windstorm.
Trunk and Bark
The trunk and bark are easier to inspect. Keep an eye out for the following signs:
Though it's normal for some amount of bark to peel, it should be replaced by new layers. Excessive peeling or large portions of bark falling off could indicate problems, especially if the inner trunk remains exposed over time. Bark protects the inner core of a tree and keeps it healthy. Without it, a tree may not be able to maintain nutrients and die.
Large clusters of fungal growth could indicate your tree is suffering from internal rot.
Branches
Dead branches and sparse foliage could indicate problems in the trunk or roots of a tree. Additional signs to watch out for include:
Yellow or brown leaves out of season, excessive wilting and slowed tree growth can indicate problems like root rot.
White, powdery mildew on leaves can lead to distorted leaves and stunted tree growth. Early signs include small white spots that may expand and cover the entire leaf with time.
Work with a Professional
When it comes to the health of your trees, prevention is key. If you suspect a tree on your property is sick, have it inspected by a professional as soon as possible.
C.C. Tree Experts owner Chris Cochran is a New Jersey Licensed Tree Expert, and our company owns its own crane! C.C. Tree Experts has the knowledge, experience and equipment for all your tree service needs. Call 856-858-1165 to speak to a professional today!
<!–– END BLOG POST ––>