<!–– START BLOG POST ––>
New Jersey Licensed Tree Expert | Tree Service South Jersey <!———————————–– EDIT ———————————––>
<!———————————–– EDIT ———————————––>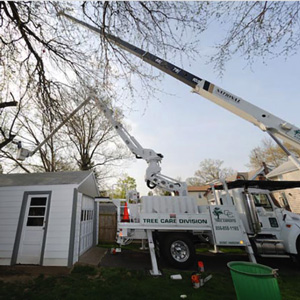 If you hire a tree removal company that doesn't have the right equipment, knowledge or experience, it is very likely that your property will sustain extensive damage. Depending on your homeowner's insurance policy and the contractor's insurance (or lack thereof), you could wind up paying out of pocket for repairs. When searching for a tree service, South Jersey residents should only hire a New Jersey Licensed Tree Expert (NJLTE) since these contractors have passed an examination that tests their expertise in tree removal and related services.
Chris Cochran of C.C. Tree Experts is a NJLTE. Our tree removal company is one of the few in South Jersey (if not the ONLY company) that owns a crane, which allows us to remove trees without causing damage to your home, business or surrounding landscape.
C.C. Tree Experts has been in business for nearly 40 years. Call us today at 856-858-1165 to learn more.
NJLTE vs. TCO—What's the Difference?
Botched tree removal became such a serious problem in New Jersey that in January 2010, lawmakers passed the Tree Expert and Tree Care Operators Licensing Act, and in 2017 enacted the Tree Expert and Tree Care Operators Licensing Law. These Acts introduced two types of licenses: the NJLTE and the Tree Care Operators (TCO) license.
To become a licensed Tree Care Operator, all a business needs to do is have seven years of experience in tree care. There's no test or certification exam, which means it's entirely possible for an unqualified tree service to become a licensed TCO. For this reason, licensed Tree Care Operators are only allowed to do tree removals.
NJLTEs, however, are able to offer a wide range of tree services including removals, tree trimming and planting. Since these contractors have to pass a certification exam, you can trust that they have the knowledge and experience to handle your tree care needs without damaging your property.
The bottom line—you should never hire a tree service unless they have a New Jersey Licensed Tree Expert. Also, be sure to ask if the tree care service is insured. The state checks that NJLTEs are insured for up to $1M in general liability and workman's comp, this will protect you financially if your property is damaged or someone is injured. C.C. Tree Experts is fully insured and always provides proof of insurance to customers.
Tree Service South Jersey | C.C. Tree Experts
When searching for an established tree service, South Jersey home- and business owners turn to the fully insured and experienced crew at C.C. Tree Experts. Call 856-858-1165 or request a consultation today to learn more.
<!–– END BLOG POST ––>