<!–– START BLOG POST ––>
Tree Trimming Cherry Hill NJ: Best Time to Trim | CC Tree Experts <!———————————–– EDIT ———————————––>
<!———————————–– EDIT ———————————––>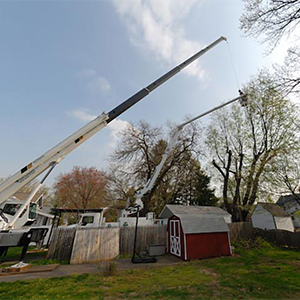 Whether it's to prevent rot and decay, remove dead branches, or stimulate healthy growth, there's no doubt that professional trimming can help your trees flourish. But bringing out the clippers during the wrong time can wreak havoc on your home's hardwoods, leading to unexpected complications that bring it all crashing down. At C.C. Tree Experts, our knowledgeable pros have the tools, talent, and experience to ensure your trees receive the proper care at the right time. When searching for a company specializing in tree trimming, Cherry Hill NJ homeowners trust the pros at C.C. Tree Experts.
We are a fully insured and licensed tree service with decades of experience helping homeowners look after their greener assets. Our team includes owner Chris Cochran, a NJ Licensed Tree Expert (NJLTE) and certified arborist, which means he has passed an extensive evaluation of his competency diagnosing, preventing, and treating tree risks and problems. Whatever the season, our pros are here to help; call 856-858-1165 to find out more about our services.
When to Prune: Advice from the Pros
We're often asked, "When is the best time to trim and prune my trees?" While there are optimal pruning periods for different species of plant life, most trees will benefit from professional trimming at any point in the year. Why? There's no wrong time to make sure your tree is healthy and growing properly. We advise not waiting until a certain season to hire an expert tree trimmer so that your trees get the service they need before it's too late.
At C.C. Tree Experts, our pros will visit your property and evaluate your trees to help determine the best way forward to ensure healthy growth in the spring season.
With us, you can enjoy peace of mind knowing that your trees are in the right hands.
Contact Us Today for Professional Tree Trimming in Cherry Hill NJ
Taking the right steps now will ensure your plant life will thrive in the future. Speak to the pros at C.C. Tree Experts today – call 856-858-1165.
<!–– END BLOG POST ––>