<!–– START BLOG POST ––>
Why Cheaper Isn't Always Better When Hiring a Tree Service Camden County NJ <!———————————–– EDIT ———————————––>
<!———————————–– EDIT ———————————––>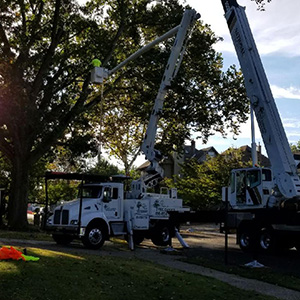 If you're in need of tree removal Camden County NJ, price is certainly a factor you should consider when comparing your options. But like any other service, you usually get what you pay for, and a cheap tree removal company that lacks certified personnel and doesn't have a crane could damage your property and cost you more in the long run.
Don't take the risk.
Before you hire a tree removal service, it's important that you look beyond the upfront cost and investigate the company's credentials. Be sure to ask the following questions:
Are you a fully insured and licensed tree service Camden County NJ?
For how many years have you been providing tree removal services?
Do you use a crane?
Is there a Certified Tree Expert (CTE) on your staff?
Is there a Certified Arborist on your staff?
Where can I read reviews of your service?
At C.C. Tree Experts, we are fully insured and licensed, and we've been in business for nearly 40 years. We are one of the few tree services (if not the ONLY tree service) in Camden County that uses a crane, which means we can remove your tree safely with no damage to your property or surrounding plants.
Owner Chris Cochran is a Certified Arborist, a distinction that has become harder and harder to find in New Jersey. Our team also has a Certified Tree Expert, which means they have passed an extensive evaluation of their competency in diagnosing, treating, and preventing tree injuries.
If you hire an unqualified tree service that doesn't have these credentials, it is likely that the job won't be done right the first time, which not only could translate into damage to your property but also might mean you'll end up having to hire another tree removal service and paying much more than you should have.
Why Are Positive Reviews So Important When Hiring a Service for Tree Removal Camden County NJ?
If you're like most people, your property is one of your most valuable assets. So it goes without saying that you want to avoid hiring a tree service that could damage your home or business.
One of the easiest ways to find out if a tree removal company is worth hiring is to read online reviews from past customers. At C.C. Tree Experts, our reputation for providing a high-quality service has earned us the Angie's List Super Service Award every year that the program has been active. Angie's List is one of the nation's leading providers of consumer reviews on local service and health providers, and the Super Service Award is bestowed upon only about 5% of all businesses rated on Angie's List.
If you would like to discuss your tree removal needs or to schedule a visit from our experienced team, call 856-858-1165.
<!–– END BLOG POST ––>