<!–– START BLOG POST ––>
Emergency Tree Removal South Jersey | CC Tree Experts <!———————————–– EDIT ———————————––>
<!———————————–– EDIT ———————————––>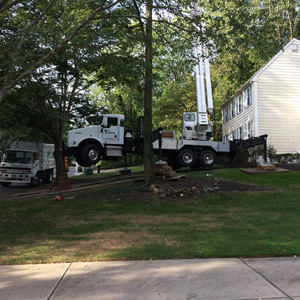 A dead or dying tree poses a serious threat to your home or business. Strong gusts can topple this towering hardwood, setting it on a devastating collision course for your property. At C.C. Tree Experts, we will act before disaster strikes, keeping you, your family, and your employees safe. When searching for a crew specializing in emergency tree removal, South Jersey locals turn to us for our prompt, professional service.
At C.C. Tree Experts, not only do our pros have the necessary qualifications and experience to remove trees safely, we also own a crane. This vital tool allows us to remove trees in even the most confined spaces without risk of injury or damage to your property. To find out more about what we do, contact us today at 856-858-1165.
Signs You Need Emergency Tree Removal
You're already aware of the threat posed by a dead or dying tree. However, it can be hard to spot signs that your hardwood is about to fall before it's too late. At C.C. Tree Experts, our team will visit your property and assess your trees to determine whether removal is necessary. In the meantime, take a look at some of the most common warning signs below:
Is your tree damaged? From strong winds to lightning strikes, Mother Nature can wreak havoc on your hardwoods. Whether it's broken branches or cavities along the trunk, any severe damage marks could signal that your tree is about to fall.
Is your tree old? When trees get older, they can become brittle and start to splinter. Sound like your tree? It may be ready for retirement.
Does your tree have any diseases? Just like us, trees are susceptible to diseases. Many diseases will cause the tree to rot from the inside. On the surface, these trees appear to be flourishing but most are just moments away from death. Our team has two certified tree experts who have passed an extensive evaluation of their competency in spotting diseased trees.
Speak to Tree Removal Expert Today
A dead or dying tree isn't a problem you can ignore. Left unchecked, that hardwood could be heading straight for your home, causing untold damage when it all comes crashing down. With C.C. Tree Expert's emergency tree removal service, you can enjoy peace of mind that the next strong gust won't put you and your family in the firing line. Contact us today at 856-858-1165 to schedule a consultation.
<!–– END BLOG POST ––>