<!–– START BLOG POST ––>
Expert Tree Service Mount Laurel NJ | CC Tree Experts <!———————————–– EDIT ———————————––>
<!———————————–– EDIT ———————————––>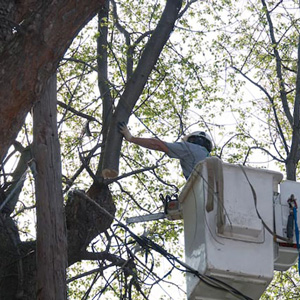 Trimming and pruning are vital to your trees' health. Without proper care, your trees will struggle, leaving those old hardwoods in danger of decay. However, if you're thinking of trimming your trees yourself, think again. This is a difficult and dangerous task best left to the pros. When searching for an expert tree service, Mount Laurel NJ residents turn to us for safe, effective tree care.
Our team will examine your property and provide an honest assessment of the condition of your home's hardwoods. We will also give our recommendations on how to help your trees thrive during every season. Call 856-858-1165 today to get started.
The Dangers of DIY Tree Trimming
You just go up and snip off the parts you don't like, how hard can tree trimming really be? While there's no denying that tackling tasks around your landscape yourself is a noble pursuit, some jobs – such as tree maintenance – can be too challenging for the average handyman.
Every year, around 200,000 people are injured in DIY accidents. The US Census even lists tree trimming as one of the most dangerous jobs in the country. Hence why most tree experts spent years working and training to earn the qualifications necessary to complete tree maintenance tasks. It's not just about knowing the best trimming techniques, but being able to implement those techniques without risking injury or causing damage to nearby property.
Our owner Chris Cochran is a New Jersey Licensed Tree Expert (NJLTE) and a Certified Arborist which means he is one of only a few individuals in the area that is able to provide quality tree assessment and service. At CC Tree Experts, our team has the training and qualifications to trim your trees safely. You can rest assured we will get the job done right the first time.
We also specialize in emergency tree removal. We are one of just a few – if not the only – companies in the area that owns a crane. A crane gives us easy access to the highest branches and even lets us remove your tree piece-by-piece, which minimizes the risk of causing damage to your property.
Need Tree Trimming Advice? Turn to CC Tree
Regular tree trimming encourages healthy growth and will help keep your trees looking their best. At CC Tree, we will handle all your tree care needs, from pruning to removal. Contact us today at 856-858-1165 to find out more about what we do.
<!–– END BLOG POST ––>