<!–– START BLOG POST ––>
Tree Removal | Haddon Heights NJ Tree Service Experts <!———————————–– EDIT ———————————––>
<!———————————–– EDIT ———————————––>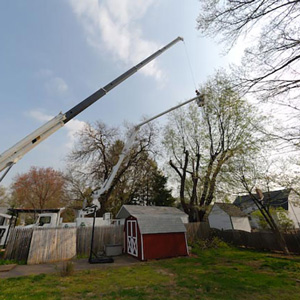 Falling trees can crush homes and businesses in an instant, injuring occupants and costing owners thousands of dollars. In many cases, this untold damage could have been prevented by a tree removal specialist. At C.C. Tree Experts, our owner Chris Cochran is a New Jersey Licensed Tree Expert, making us one of only a few companies that can legally consult on, diagnose, and treat tree problems. When in need of safe tree removal, Haddon Heights NJ homeowners trust the pros C.C. Tree Experts. If you turn to an unqualified tree service that doesn't have our credentials, you're essentially gambling with one of your most valuable assets: your home or business. We have more than 40 years of experience and have built a reputation on getting the job done right the first time. To find out more about our tree removal service, call us today at 856-858-1165.
Why Hire a NJ Licensed Tree Expert for Tree Removal?
Unlicensed contractors will try to lure you in with bold promises and cheap rates, but this bargain could cost you more in the long the run. Not only is operating a tree removal service without a license illegal, but it's also a sign that a contractor's staff is not trained to tackle these potentially dangerous projects.
C.C. Tree Experts is a fully insured and licensed tree service specializing in safe and effective tree removal. We've been in business since 1980, so we've seen everything there is to see when it comes to tree maintenance. Our years of experience also mean that we're truly dedicated to providing superior customer service.
We are one of the only companies in the area that owns a crane. This important tool allows us to remove larger trees safely without the risk of damaging your property.
Safe Tree Removal Haddon Heights NJ Homeowners Trust!
Need help removing a problem tree? When searching for a professional tree service, Haddon Heights NJ residents know the team at C.C. Tree Experts has the tools, knowledge, and experience to get the job done right. Call 856-858-1165 to get started.
<!–– END BLOG POST ––>