<!–– START BLOG POST ––>
Tree Trimming Companies in South Jersey | CC Tree Experts <!———————————–– EDIT ———————————––>
<!———————————–– EDIT ———————————––>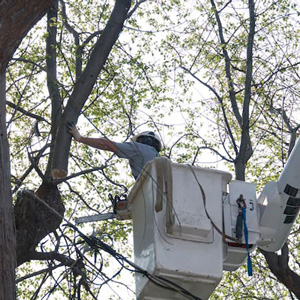 Regular tree trimming can prevent rot and decay and stimulate healthy growth. However, scaling trees to access the highest limbs is a dangerous task best left to the pros. At C.C. Tree Experts, our team has the training and qualifications to trim and prune your trees safely. Searching for tree trimming companies in South Jersey? You can trust the pros at C.C. Tree Experts to get the job done right.
We are a fully insured and licensed tree service with decades of experience taking care of trees in the area. Our team includes owner Chris Cochran, an NJ Licensed Tree Expert (NJLTE) and certified arborist. This means he has passed an extensive assessment of his competency diagnosing, treating, and preventing tree risks and other issues. Call 856-858-1165 to find out what our pros can do for your greener assets.
Important Tree Trimming Safety Tips
Whether you want to cut back problem branches or just want to shape your tree, you may be thinking of trimming your home's hardwoods. Unfortunately, unlike mowing the lawn or weeding the flowerbeds, this not a DIY task. Making small mistakes, such as stepping on a weak branch as you climb up, could leave you seriously injured after you fall to the ground.
At C.C. Tree Experts, our pros have spent years training so that they can trim, prune, and remove branches safely. Plus, we are one of only a few – if not the only – companies in the area that owns a crane. This vital piece of machinery gives our tree experts easy access to even the highest limbs.
Besides trimming, we also perform:
Tree pruning
Tree takedown and removal
Stump removal
Tree assessment and risk management
Contact Us Today for Professional Tree Trimming in South Jersey
With our tools and training, we can trim your trees to your desired shape while ensuring it is in the optimal condition. And, if you're not sure whether a tree poses a risk, our crew can examine your property and provide an honest assessment of its condition. Contact us today at 856-858-1165 to get started.
<!–– END BLOG POST ––>