<!–– START BLOG POST ––>
Professional Tree Service Mt. Holly NJ | CC Tree Experts <!———————————–– EDIT ———————————––>
<!———————————–– EDIT ———————————––>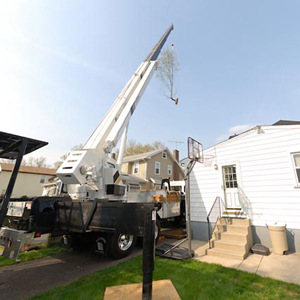 Trees are more than just a beautiful part of your scenery. These green assets can improve the value of your home and elevate your curbside appeal. But diseases, pests, and age can turn these eye-pleasing hardwoods into looming eyesores. At C.C. Tree Experts, we will handle all your tree care needs, from trimming and pruning to cabling and bracing. When searching for a qualified tree service, Mt. Holly locals trust the pros at CC Tree to get the job done right.
We've been in the industry for more than 40 years. During this time, we've honed our skills and have strived to provide the best tree care available. Contact us today at 856-858-1165 to speak to a member of our team.
What's the Difference Between a Landscaping Service and a Tree Service?
Landscaping companies offer a range of services, from lawn restoration to landscape design. Some even claim to specialize in tree removal, trimming, and pruning — often at a low price. However, while mishaps during mulching are easy to undo, a mistake while removing a tree can have costly consequences.
Unlike a landscaping company, a qualified tree service focuses primarily on tree care. Typically, these companies may offer some a la carte tree services, but are not qualified and trained to provide the level of service as a dedicated tree company.
At C.C. Tree Experts, our owner Chris Cochran is a New Jersey Licensed Tree Expert (NJLTE), which means he is one of few in the area that can legally perform the tasks listed above. It's a unique qualification that gives us the ability to provide a complete tree care package, from trimming, pruning, and removal to maintenance, fertilization, and more.
We are also one of a few companies in the area — if not the only — that owns a crane. This vital piece of machinery gives our pros the ability to remove trees in even the most confined spaces without risking damage to the surrounding property and gives them access to the highest branches for quick, effective trimming.
The Tree Service Mt. Holly Locals Trust
Whether you need to remove a problem tree or want to help your greener assets thrive throughout the year, the pros at C.C. Tree Experts have you covered. Our team is ready to visit your property and make an expert assessment about your trees. Contact us today at 856-858-1165 to get started.
<!–– END BLOG POST ––>