<!–– START BLOG POST ––>
Do Trees Need "Spring Cleaning"? | CC Tree Experts <!———————————–– EDIT ———————————––>
<!———————————–– EDIT ———————————––>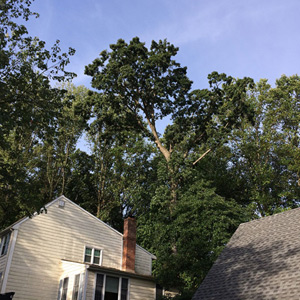 Spring has sprung, and you might be looking at tree trimming companies in South Jersey for guidance on how to best care for the hardwoods surrounding your home. In this post, we look at the types of springtime care and maintenance that can benefit your garden and keep your family and property safe.
Pruning and Trimming
Trees can benefit from pruning and trimming year-round, but spring is an important time to assess the state of your trees. Once new growth shows up, dead branches are easier to spot and remove. Early intervention can prevent the spread of disease, falling branches and the potential loss of a tree.
Different tree varieties have different needs when it comes to pruning and trimming. Doing so at the wrong time can attract insects or disease. Trimming spring-blooming trees before they've bloomed can cut off this year's flowers. Therefore, having your trees assessed by professionals can not only save you time and headaches, it can help you maintain a beautiful outdoor space year-round.
Tree Removal
If a tree or stump needs to be removed due to death, disease or its placement, doing so in a careful, efficient way is important. This is certainly a job best left to professionals with the required knowledge, equipment and insurance to ensure the safest and least invasive tree removal process. Removing at-risk trees prior to spring and summer storms can greatly reduce the risk of injury or damage. Take a look at these signs a tree needs to be removed in order to spot the danger before the damage happens.
C.C. Tree Experts is a fully insured and licensed tree service and the one of the only tree services in the area with our own crane. Owner Chris Cochran is a New Jersey Licensed Tree Expert (NJLTE) – a distinction you'll be hard-pressed to find elsewhere. We pride ourselves on the skills and knowledge that comes with being in business for almost 40 years. Don't just take our word for it – read our customer testimonials and see what others have to say! Contact C.C. Tree Experts today at 856-858-1165 to get started.
<!–– END BLOG POST ––>